NOTE: the 2014 version of VA is license-aware but it is in NOT possible to buy a license. At the moment the Standard version is identical to the Professional version. In the near future will be available a pro-version with new functions that you can buy by means of credit card or paypal.
At the moment you can make only a donation, as usual (see at the bottom page).
if you want to buy VA, please use button "buy now".
Don't forget to fill the UID field with the code (you can retrieve it from VA, "About" window, click the "copy" button and paste it) :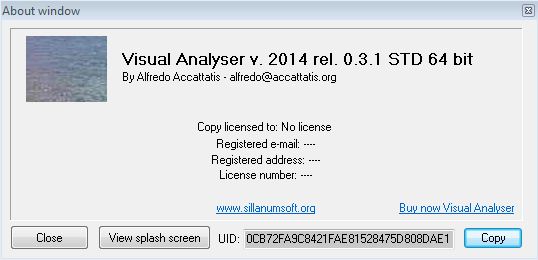 and the Full Name (name and surname) plus the e-mail address and your address. After the payment, and within 24 hours I'll send you an email with attached the file license.va (that you must copy in the va directory, normally c:\programs\SillanumSoft\) and the number of your license. The license is computer dependent (i.e. you cannot use the same license in another computer, it identify univocally the hardware of your computer), if you need to use VA in different computer or if you modify the hardware of the same computer, you can send me an email with the new UID and I will send you a new license file (the license number will be always the same). Don't forget to specify also your license number.
If you find VA freeware useful and do not need to buy VA, please make a donation, click below:

Those who make a donation:
will get enhanced e-mail support;

can request a modification for a particular function (may be useful for others too!);

may suggest other useful programs for me to write!

will encourage me to dedicate more time to the development of VA.

After you make a donation, don't forget to send me an e-mail